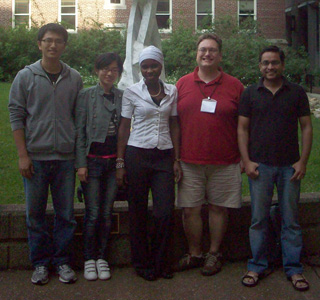 To construct an email address, add "@msstate.edu" to the MSU NetID. Dr. Fitzkee's page is available here.
Graduate Students
Name
Project
NetID
Program
Dinusha Jinasena
Undecided
dsj125
Ph.D.
Ramya Tata
Histone Proteins / Pathogenic Surface Proteins
st787
Ph.D.
Ailin Wang
Retroviral integration
Nanoparticles
aw1229
Ph.D.
Dinesh Yadav
Unfolded proteins
dky12
Ph.D.
Yue Zhang
IDP Simulations
yz302
Ph.D.
Undergraduate Students
| | | | |
| --- | --- | --- | --- |
| Name | Project | NetID | Class |
| Will Buchanan | Unfolded proteins | wdb146 | 2015 |
| Tam Vo | Retroviral integration | tdv26 | 2014 |