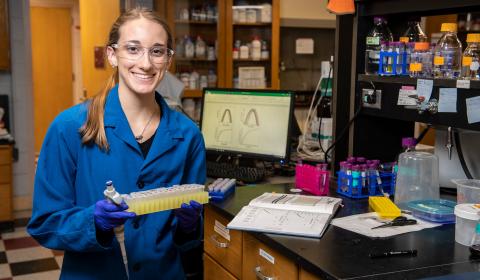 Emily Chappell, one of the undergraduates in the Fitzkee Lab, has received a third place award at the MSU Undergraduate Research Symposium. Her poster, titled "Interactions of R2ab and Amidase with Polystyrene Nanoparticles" was award third place in the Physical Sciences and Engineering division. This poster represents work Emily performed during her NSF-funded research experience in the summer of 2020. Emily is one of only a handful of students who were able to perform research in our department during the "Summer of COVID."
Emily has been a member of the Fitzkee lab since 2018, and she has worked with several graduate and undergraduate students to characterize protein binding to nanoparticle surfaces. Understanding these interactions is becoming increasingly important as nanomaterials become a regular part of our daily lives. In this project, Emily focused on characterizing protein structural changes using the new circular dichroism (CD) spectromter that was installed this summer.
Emily hopes to enroll in graduate school in Biophysics next year, and she is currently eyeing the field of intrinsically disordered proteins. We're very proud of the work she has done and continues to perform in the lab. Congratulations, Emily!
Photo credit: Logan Kirkland